Is Your Self Image Tied Directly to Your Bathroom Scale?
This week I was talking to a patient in the office who had accomplished an amazing goal this year.   She had lost 60 lbs. I was shocked to hear her say she didn't feel like she looked any better than BEFORE. I knew that many people have a huge disconnect between what they see in the mirror and what they actually look like but it really surprised me. I have recently added a new technology in my office that helps people "repaint the picture" and close the gap on the image they have of themselves. This is a reality check that will help them be more successful in making healthy changes and give them the confidence to sustain them.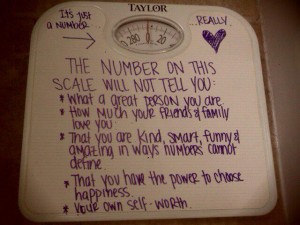 Don't give your power over to your scale. There is an actual defined medical condition tied to the extreme disillusion called Body Dysmorphic Disorder (https://en.wikipedia.org/wiki/Body_dysmorphic_disorder).
We want you to get in shape because you love and repect your body, because you want to push your body to be the best it can be. We want you to start your healthy eating, diet, workout etc. in a good state of mind. We want to plug you into things that support you to understand you are so much more than your body, but your having a good body image can be a huge step toward success in all areas of your life.
We've already scanned over 20 people and they are off and running in a new direction for 2016.  If you want to join them let us know.
We offer support, products and good information to help you be successful.